As promised, hot off the heels of completing the main Red Dead Redemption single player campaign I installed and started playing the game's expansion pack / DLC Red Dead Redemption: Undead Nightmare. Undead Nightmare is interesting for sure, being something of a "total conversion" of the main game with some different gameplay elements and a different flow than the core game. The (obviously totally non-canon) story revolves around RDR's protagonist having to track down a cure to an evil undead invasion that has taken over the frontier.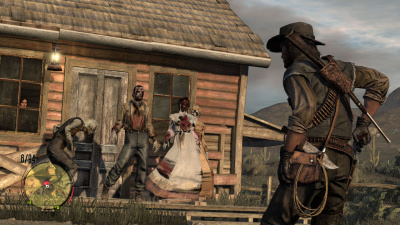 "Lovely family…"
Now, given how "straight" the story and characters of Red Dead Redemption are I really wasn't sure of what to expect of the expansion. Zombies, really? Was it going to be serious or totally ridiculous? The answer is somewhere in between though for the most part it keeps its serious tone and most of the more fantastic elements and humor are delivered in a very dry way which I found amusing in itself. That actually effected the entire feel of the expansion for me too – on one hand I felt like I shouldn't take my playthrough too seriously, as it is just a silly spin-off story. On the other the fact that the world still feels dark and gritty and, over the top moments like when I found and then "broke" one of the four fucking horses of the apocalypse aside, the tone is never really completely shattered helped continue to keep me almost as immersed as the original campaign.
The zombies themselves are obviously a game changer. The whole "zombie headshots" thing definitely had a major effect on my game. Zombies will usually go down with a single shot to the head or by being burned, anything else seems to have very little effect on them. Personally I didn't make going for headshots a priority at all in Red Dead Redemption proper so this new focus on lining up my kill shots really changed the whole dynamic of combat for me, especially when ammo was extremely scarce early on. Zombies also behave unlike any other enemies in the original game and the new special zombies add even further variety to the combat.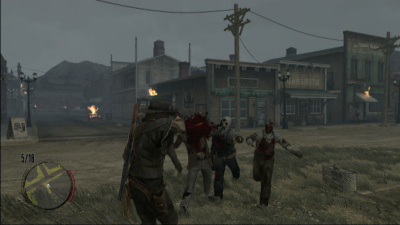 "Headshot, headshot, headshot. Learn to abuse Dead-Eye!"
Probably the biggest departure from the main game, mechanics wise, is the introduction of a town invasion system. All of the main towns and camps in the game have a limited number of survivors. They'll come under attack at some point (it seems to be on some sort of timer) and you'll need to help repel the attack and clear the town of zombies. If you wait too long or things go badly you might lose some survivors. The less survivors the more frequently the town will be attacked until such a time that it can no longer be cleared back out, losing you access to small weapons caches and a bed to save your game and fast travel with. While defending these towns can get a little repetitive on a whole I found the system pretty fun. I do wish I had paid more attention to the fact that you can "assist" survivors to speed up the process of clearing out a town, however, as a few of my earlier attempts to clear towns out were lengthy and fairly exhausting affairs.
Then there were the bugs. I don't know if this is a wide spread problem or not (I've read some things that implied that these issues were only caused by a very recent patch) but boy was my game fucked. It seemed like after playing for a while NPCs and zombies would start spawning with invisible bodies, as in you could only see their clothing. This made going for headshots a little challenging given how few zombies have the fashion sensibility to sport hats. Worse, whenever this happened I would often notice certain events failing to trigger. The first graveyard I had to clear in the story took me well over an hour due to having to restart it over several times, with one of my runs netting me something like a hundred kills before exhausting all of my ammo and depleting my will to fight on. I'd also often run into a seemingly related glitch where trying to save my game would cause it to freeze. Thankfully the generous checkpoint system meant that this was never more than a bit of an inconvenience but it was annoying all the same.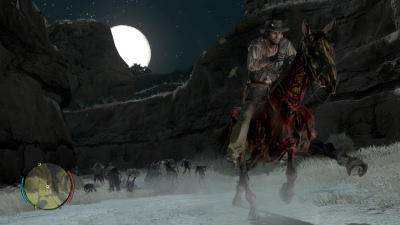 "On a pale horse (running the hell away…)"
Overall would I recommend it? Even with the bugs I experienced I could easily recommend it to anyone who liked Red Dead Redemption and likes massacring zombie hordes. Even if you only want a little more time with John Marston and company and don't care much for zombie games I'd probably recommend it if nothing else but for another opportunity to run through Red Dead's excellent world, albeit a slightly twisted version.
Xbox 360 screenshots looted from a cursed Aztec tomb because I'm a bad, bad man.