Warning: potential main quest spoilers ahead!
From Garn's recollections:
The Great Gate
Finally arriving back at Cloud Ruler Temple I found Jauffre and Martin along with Baurus and a few other senior Blades gathered in the great hall. It seemed that I had interrupted a tense discussion which they were quick to invite me into. Martin, it seemed, had hatched yet another plan. The final reagent needed for the dark ritual that would help create a portal to Mankar Camoran's paradise had been learned - a great sigil stone. Unlike the sigil stones I'd been using to close the Oblivion portals up till then, a great sigil stone could only be found in great siege portals like the one reportedly used to destroy Kvatch. I hadn't encountered one of those yet but from the information we acquired from the Mythic Dawn's spies we knew that they were plotting to bring one to Bruma.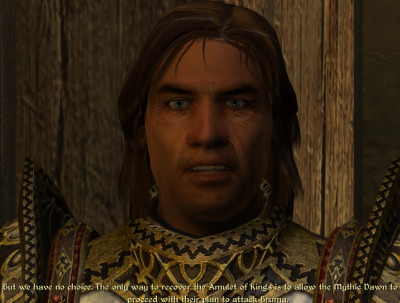 "Good for us, not so good for Bruma."
That was Martin's plan, it turned out. We needed to stop closing all of Oblivion gates around Bruma allowing them to create a combined passage between our worlds large enough for a great Oblivion gate to open. The Blades were not extremely happy with this plan. More troubling still, Martin demanded to lead the defense against the invading Daedra himself. There was no talking him out of it, nor were there any other plans on the table, and so we made the short ride down to Bruma to share Martin's plan with the Countess.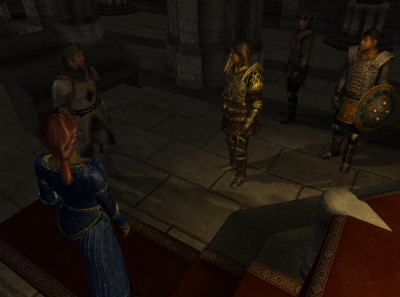 "Martin and I attempt to convince Bruma's Countess to let us destroy her city."
Meeting us at the Chapel of Talos, Countess Narina Carvain was not so pleased with the plan either. If we failed to hold back the Daedra swarming through the gates, or worse yet, we failed to close the great gate before it could begin its siege of the city, Bruma would take significant losses if not be utterly destroyed. Quite a gamble, but the Countess guessed Martin's identity quickly enough. Bruma had a long history of working with the Blades of Cloud Ruler Temple and she deduced that he must be the new emperor. She also knew me from my work for Bruma in the past as well as my reputation as the leader of the Fighters and Mages guilds and my victories as the Divine Crusader since. Of course she also knew of no other, better plans to end the Oblivion Crisis and quickly made her decision. She was completely behind us.
As we left the chapel a great crowd of citizens, refugees, and reinforcements from other cities had gathered around the chapel. The Countess silenced the rabble and made a brief speech, announcing that we were at the beginning of a new era, the end of the Oblivion Crisis, and the start of the reign of Martin Septim. The crowd exploded, chanting Martin's name as we continued to the city gates.
Outside of the city the majority of the Blades, a large portion of Bruma's guardsmen, and the reinforcements sent from other cities, the guilds, and knights and warriors from all over Cyrodiil gathered and prepared for battle. Martin made an impressive speech, rousing the combined force and underscoring the significance of the moment. This could be the pivotal turning point in which the empire, and indeed the rest of Tamriel, would be saved from the enslavement of Mehrunes Dagon.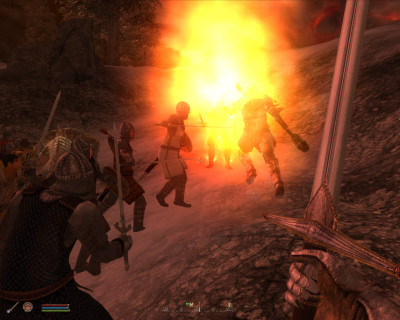 "Martin Septim takes a fireball directly on the chin. Ouch."
A new Oblivion gate appeared nearby and in an instant the battle was on, as swords were drawn and bows were raised. All manner of Daedric soldiers, creatures, and constructs started to trickle through and immediately sought to break our lines. A massive fireball flew from a powerful Xivilai mage and landed almost dead on Martin. I was quick to shield and heal him with my restoration magic but it was a close call that did little for our force's morale. Soon a second gate appeared, and then a third. The battle was utter chaos, with many guardsmen falling all around us. The line was being held for the time, however.
That was about the time the great gate appeared. As wide as a city wall and taller still, the great gate dwarfed the horizon. Many of us stopped and stared in awe at the fearsome sight, temporarily forgetting that we were fighting for our lives. I was snapped out of the moment by Martin, frantically yelling over the clash of battle to tell me to get to the gate. I had no time to waste, I had to find the great sigil stone before the great gate spilled it contents onto Bruma.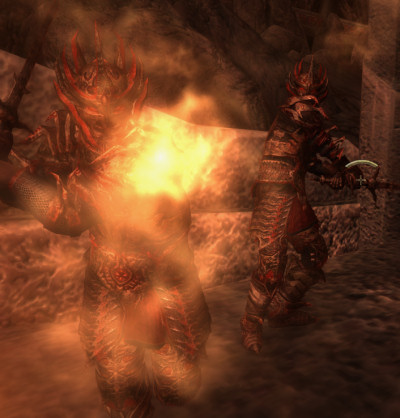 "Dremora doing their part to slow my progress to the top of the tower."
Raising my shield and charging my way past a unit of heavily armored Dremora soldiers I entered the gate. I arrived on the other side to find myself facing a siege engine armed with a massive cannon the likes of which the most talented machinists and mages in our world had never dreamed to construct. These engines could raise Bruma's walls effortlessly and I was sure they could just as easily continue onward to the Imperial City. As the machine slowly lumbered forward towards the portal I darted to one side of it to look for a way into the sigil tower. After a brief climb I snuck up behind an unsuspecting Dremora patrol, blasting one of them with an electric bolt and running another through with my longsword.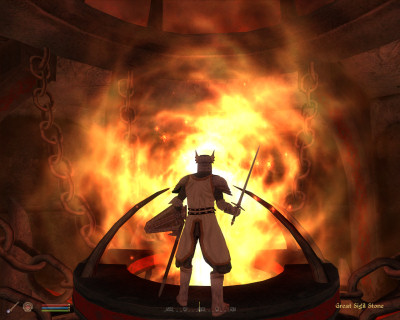 "Well this doesn't look good..."
Inside the sigil tower I found a similar arrangement as other Oblivion portals and began my ascent. While this tower seemed more heavily guarded than most, and many of the guards seemed to be better fighters than most of the Demora I'd encountered previously, my urgency and aggression caught many of them unprepared and soon I found myself standing in front of the great sigil stone. With a huge heave I pushed the stone from its pedestal and was instantly blown back by the resulting explosion.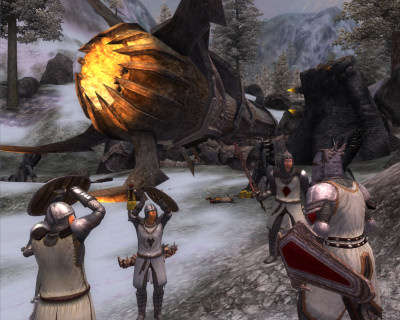 "Aftermath of The Battle of Bruma."
I awoke to two Bruma guards pulling me to my feet, dusting me off and checking for wounds. I was back on the snowy fields outside of Bruma. I was alive. The less fortunate lay strewn all around us in such quantity that it was hard to make out which side came out worse. The great siege engine I had dodged as it lumbered towards to portal had evidently made it only partially through, with the front half of the huge construct resting in our world, the rest seemed to have been sheared clean off when the great gate suddenly closed. While I couldn't locate Jauffre or Baurus, Martin came running over to greet me. There was no time to count our losses, we had to get the Amulet of Kings and stop this invasion once and for all.
My partner and I have been playing a few newer, console based, narrative heavy adventure-ish games lately, mostly as a way to play something semi-cooperatively as those types of games seem to work great for passing the controller and working together on choices and puzzles. I've mentioned playing all of The Walking Dead games on Xbox 360 and we also had a incredibly enjoyable but tragically unfinished foray into the first four Life is Strange episodes (more on that when we eventually go back to it and beat it) but for our next game I wanted to introduce her to something more puzzle focused, more like the classic adventure games I cut my teeth on. Low and behold, I remembered that I bought a copy of Double Fine's The Cave, a game highly influenced by such adventure games, and what it lacks in narrative it makes up for by supporting simultaneous, same-screen co-operative play. Perfect!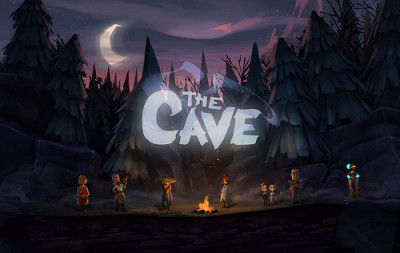 "Our cast, all complete and total bastards."
The Cave was written and directed by Ron Gilbert, one of the legendary LucasArts designers who helped bring us the absolute adventure genre classics Maniac Mansion and The Secret of Monkey Island, along with some of their sequels. Some of that influence is immediately obvious, in fact. Right off the bat you're presented with a sarcastic narrator, a creepy, cartoony world, and asked to pick 3 characters that you can switch between to take on your adventure. There's also a wacky, if not somewhat macabre sense of humor throughout (mostly from aforementioned hilarious narrator) which definitely feels like a throwback to the days of "talkie" LucasArts and Sierra games. Something I miss, frankly.
The game itself is a side scrolling puzzle platformer, but the big twist is that its puzzles aren't based on platforming or physics so much, as old school, often baffling, location and object based adventure game puzzle design, in what, to me, is in an interesting and fairly unique way. Sure, there have been plenty of platformers that threw a few similar puzzles in here and there, but I can't think of any as utterly focused on this style of puzzle solving as The Cave is. It's almost a new genre. One of the ways it adapts to the more action orientated control scheme of a platformer is by utterly stripping the inventory system down to its bare essentials - you can only ever hold a single item at a time, and the puzzles are cleverly designed so that, despite how it may seem at times, you never need more than that to solve a puzzle.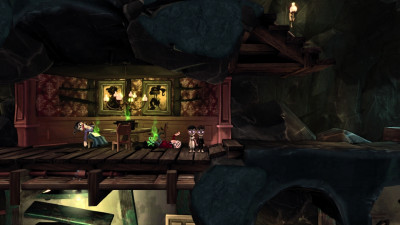 "I mean, who didn't love The Twins?!"
Each of the three characters has one unique ability that is vital to solving some of the puzzles, and since you can use any combination of characters you may end up with wildly different solutions to the same puzzles. Furthermore, it uses the fact that you've got three characters that can be placed in different locations, and using different items, as a key component to solving the majority of the puzzles, much like some of the puzzles in Maniac Mansion. Again, very clever design.
Each character also brings with it its own unique gameplay sections which are the best and most challenging in the game. They also each get their own backstories explaining how they wound up in The Cave. Ultimately it turns out that each of the seemingly harmless adventurers has a dark side, and while The Cave rewards them with the selfish ends they seek, it also hilariously rubs their face in the repercussions of their terrible behavior. This game has some seriously funny moments, definitely one of the funniest games I've played in a while.
"The Knight has what he came for..."
The Cave isn't perfect, but it's probably closer than most of Double Fine's other efforts recently. Other than being a little loose controlling and having some (pedigree appropriately) insane puzzles here and there, the biggest issues in my mind are the areas that repeat no matter which characters you're playing, which can be a bit of a chore to re-play over and over again, and the fact that having to choose from a pool of 7 characters means you have to play through the game a third time, re-playing two of the stories you've already completed, to truly complete the game. Ultimately these are minor quibbles though, I admit.
Adventure game fan? Pick it up. Fan of old school adventure game humor? Pick it up. Puzzle platformer fan? Pick it up. Just looking for something new to play co-op for a bit? Pick it up.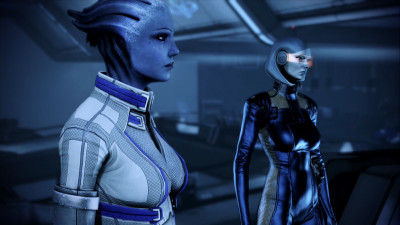 "Random Mass Effect 3 Screenshot"
I also had the pleasure of watching my girlfriend play through the entirety of the Mass Effect series. Sure, I took the controller here and there, but for the most part I just watched. Yes, all three games. Damn. It was a cool experience though, both reminding me of how much I enjoyed the first Mass Effect along with finally exposing me to Mass Effect 2 and Mass Effect 3. I admit I started to check out a little bit with ME3, both in part to how surprisingly long it was, and because I definitely want to go back and ME2 and ME3 myself one of these days.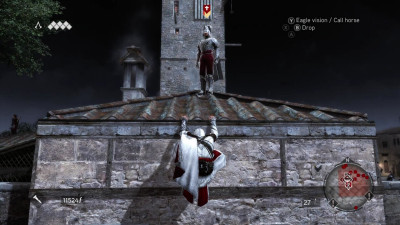 "Like most people who Ezio meets, this Borgia guard is about to die in a brutal fashion."
Finally, wanting something a little different to sink my own teeth into, I dug Assassin's Creed: Brotherhood out of my backlog and completed it and its DLC. I loved the first couple of games and, as noted here, was pretty skeptical about them turning Assassin's Creed 2 into a trilogy. I'm happy to report that I definitely really enjoyed the second piece of that trilogy, Brotherhood. Of course, I did take a comically long 6 year break between playing AC2 and AC: Brotherhood, but I digress, I enjoyed it immensely and I'm looking forward to playing Revelations sooner or later.
What did I think?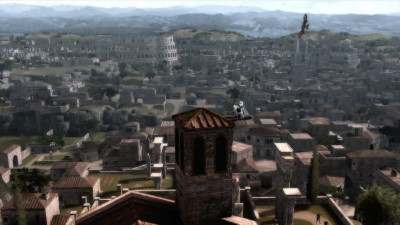 "Seriously though, Rome is pretty amazing..."
Let me try to keep this short and sweet: Ezio is still a badass, the world building is still amazing, and renaissance era Rome is great, the occasional times when the free running glitches out and you drop when you didn't mean to, or jump off the wrong direction, are still a major buzzkill, and it seems like the more items and options they keep adding to this game the more opportunity there is for these types of glitches to pop up, the Facebook game-like follower missions are fairly pointless, but on the flipside being able to call in followers to take out targets is pretty awesome, I was disappointed that several of the 100% synchronization requirements were fairly difficult, though I enjoyed trying to 100% as many of them as I reasonably could pull off as a bit of an extra challenge, Leonardo's war machines were some wacky fun, I liked that the game was confined to a single, massive city, but I wasn't a fan of the fact that they still felt the need to block off certain sections of the map until later chapters, and while the story was fine, it wasn't quite as enjoyable as AC2's, I still loved to hate Cesare Borgia though, and finally the Desmond stuff was almost totally incidental beyond the cryptic ending.
I think that about does it. I liked it a lot, over all, and I'm itching to play another one, especially to revisit Altair's story in Revelations. If only there weren't, by now, another 6 full, long, potentially extremely repetitive Assassin's Creed games out. What the fuck?!
More console game shenanigans coming soon!
Sorry! As usual my Xbox 360 screenshots were actually pilfered from caves across renaissance Italy rather than my own console.