Warning: potential main quest spoilers ahead!
From Garn's recollections:
Paradise
Martin rode back to Cloud Ruler Temple while I stayed at Bruma to help tend to the wounded and the dead. Many good men died on that day, including many important members of the order of the Blades, and I felt it only right to take a moment to see to them. After helping where I could and ensuring the rest was left in good hands, I met Martin back at the temple. Martin had just finished making his final preparations. After giving me some last minute advice and making sure I was fully prepared the ritual began.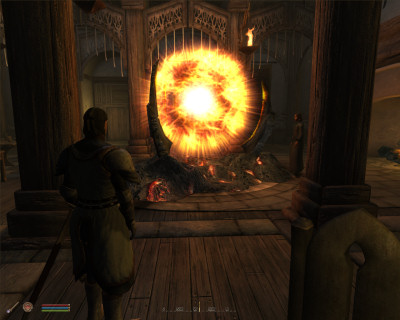 "Paradise awaits!"
Strange smells filled our nostrils and the great hall gradually appeared to be enveloped in a thick, dark haze, then with a mighty crack the ground sprang open and a portal, not unlike a smaller version of the Oblivion gates, appeared before us. At first the portal itself was tiny, but with a second, deafening crack, the portal took on its full shape and after a few brief moments seemed to stabilize. With a quick nod to Martin I gripped my sword and stepped through the gate.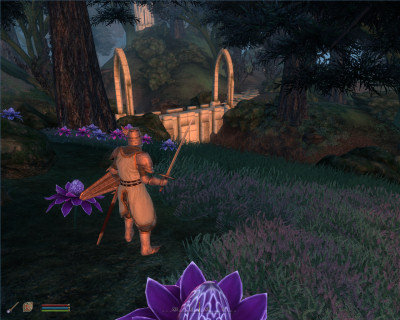 "A beautiful backdrop for eternal torment."
In a flash I appeared in a clearing in the middle of a beautiful wood. As Martin predicted there was no return portal behind me – I was simply stuck there. I climbed a nearby hill to take in the area. Exotic wildflowers of rare colors were everywhere and the land was dotted with intricate white marble structures such as bridges and gazebos. I began to follow what seemed to be a path through the hills when I came upon an ice Atronach chasing a man through the trees. I quickly dispatched the Atronach using a flame spell and approached the severely shaken Briton.
The man had little in the way of clothing and was covered in minor scratches and bruises yet to my surprise he addressed me with pompousness not typically heard from someone who was cowering for their lives not seconds earlier. I met several such people while navigating these gardens. From what I could piece together they were servants of Mankar Camoran's who died and, fulfilling his promise, were blessed with immortality and sent to his paradise. When Mehrunes Dagon had conquered our world they'd return to rule over it as lords. At least, that was the plan.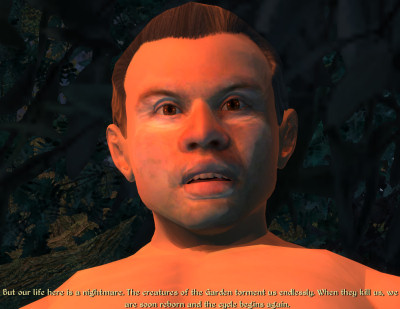 "Always read the small print when signing up for a Daedric cult."
While in this place (which they called Gaiar Alata) they were constantly tormented by the Daedric creatures who shared it with them and if they were killed they would simply be reborn to continue the torturous cycle. Most of them seemed to have been driven to the point of despair, if not utter madness, and seemed to have deep regret for their service to Camoran and Prince Dagon though surprisingly a few still remained loyal.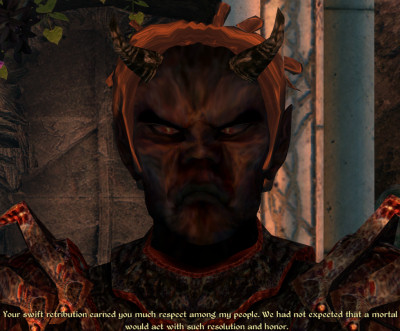 "My retribution is ongoing, actually…"
Eventually I came across a single bridge guarded by a Dremora warrior in full battle gear. To my surprise he greeted me on sight instead of charging at me like so many others I had faced. The Dremora introduced himself as Kathutet and claimed that his kin had fought me and said I fought well for a mortal, so well that they they had a certain respect for me and therefore it was no dishonor to speak with me. He told me he would let me pass if I could do a service for him, that, or challenge him. Either option would bring him honor. While I was unaccustomed to a talkative Dremora, he still served the Daedra, and I would not serve him. I drew my sword. He smiled with approval.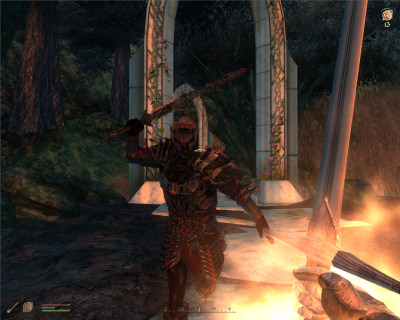 "Kethutet: Not-so-adoring fan."
Kethutet was strong, and his mighty Daedric longsword slammed against my Crusader's blade, nearly pushing me off of my feet. As I slammed him back I found time to unleash a flame blast and hit him directly, causing him to unleash a horrific roar of pain. I parried his next attack as well, and another I blocked with my shield. Pushing him off of me a second time, I again cast a flame blast at him, knocking him off of his feet. I crossed the bridge and into the cave that he seemed to have been guarding.
I soon found myself in a complicated cave system that appeared to be some sort of Mythic Dawn dungeon. The cultists here were, seemingly, torturing other servants of Mankar Camoran. Given that everyone here was immortal, many of the torture methods I witnessed were particularly brutal. Soon I heard the voice of Mankar Camoran himself booming throughout the cave system. He seemed to be speaking directly to me, so no doubt his servants and guards knew I was here, somewhere.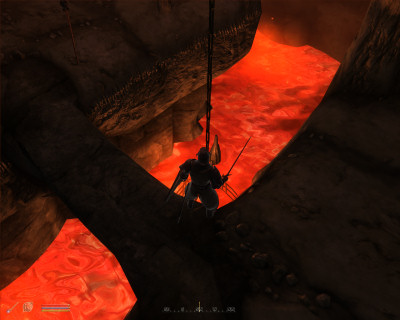 "There's actually a guy at the end of this chain. Yep, glad I skipped Mythic Dawn recruitment day."
He spoke of the Daedra being the true gods, and the Divines I serve being false pretenders. He spoke of Tamriel being just another realm of Oblivion. Some of these ideas I heard before, read from some of the heretical books I studied in the Imperial City while searching for clues to my past. In the present though, I had faith in the Divines, and attempted to ignore Camoran's ceaseless saber rattling.
I tried my best to avoid detection while I continued through the grotto but found myself face to face with one of the torturers. I drew my sword but he put his hands up, pleading for me to stop. He claimed that he could help me escape this place and take my revenge upon Mankar Camoran. Since at this point I had found myself quite lost in these maze-like caverns my curiosity peaked. I listened. He said his name was Eldamil and that he was one of Mankar Camoran's chief lieutenants before he was slain in the battle of Kvatch. He claimed he had since had much time to come to regret his part of seeing the Mythic Dawn's plans to fruition. He wanted to attone for his sins by helping me defeat Mankar Camoran. I had no particular reason to trust Eldamil but given what I had witnessed in my short time in "paradise" I also had no reason to doubt that he might have come to regret his place at Camoran's side. Camoran already knew I was here, after all, so there was no point in attempting to deceive me with someone like Eldamil.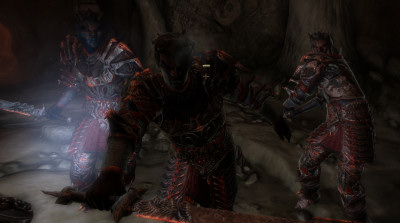 "It turns out that the Dremora still hate me after all. :("
Eldamil escorted me through the dungeon as if I was another one of Camoran's men condemned to torture and while the other ascended immortals ignored me, some of the Dremora who guarded the grotto saw through our ruse. Eldamil and I soon found ourselves in an all out fight to escape the caverns. Thankfully, after defeating several fierce Dremora guards we found the exit and made haste to Carac Agailor, Mankar Camoran's palace.
We were met at the gates by Ruma and Raven Camoran, Mankar's children. They escorted us to see Mankar Camoran himself. Mankar spoke of the changes Tamriel would face under he and Prince Dagon's reign and how fate had brought him and I together, as one final test of his supremacy. He assumed that I was a pretender and that they could make some sort of an example out of me as well as end Martin's chances of stopping the invasion in a single, decisive move. They were quite wrong. While they might have the Daedra on their side, I was the Divine Crusader, and I had the Nine watching over me.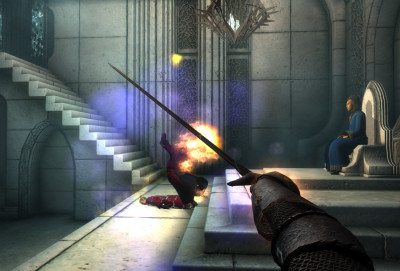 "Err. A little sadistic to kill his children in front of him, but the ends justify the means, right?"
Ruma and Raven summoned Daedric armor and weapons and charged me while Mankar sat in his throne, an amused smirk on his face. Eldamil crippled Raven with a surprise electric bolt from behind me as Ruma and I traded swings. Soon it was two against one, and soon, just two. Mankar Camoran no longer wore his smile but instead became enraged. Standing up from his throne and raising his staff over his head he pointed at Eldamil who instantly dropped dead, electricity cracking over his body. I raised my shield and charged.
Catching him by surprise, I hit Mankar Camoran with a mighty shield bash and pinned in him the corner of his throne room, then quickly darted back. I peppered him with fireballs while he answered with a strong blast of lightning from his staff. I blasted him with fire bolt, tumbled to my right, and blasted him yet again. While I had no doubt that Mankar was a powerful mage, and one which had been bestowed the many gifts of a Daedric Prince at that, he seemed to have grown out of practice when it came to dueling. I rolled toward him as he cast his own fire bolt at me causing him to shoot wide and miss me entirely. As I rolled back to my feet the gleaming steel blade of Sword of the Crusader plunged deep into his belly. He he collapsed clutching his wounds I reached out for the Amulet of Kings and snatched it off of his neck.
As soon as Mankar Camoran had drawn his final breath his palace, and indeed his entire world, began to crumble around me. I raised my shield above my head and attempted to weave through the falling debris but it was pointless. Whatever magic bound that realm to our Mundus had been broken and I found myself suddenly tripping over a table in the great hall of Cloud Ruler Temple and stumbling to the ground. I was back.