Over 10 years after my interest was first piqued by it, I finally loaded up Bully: Scholarship Edition for Xbox 360. While yet another GTA 3 style open world game, I thought the unique tone of Bully would offer me a nice change from what I'd been playing lately. After researching it a little, I decided to play it using Xbox One's backwards compatibility which I'm happy to report worked great, suffering no performance issues and only a single freeze up (which was likely unrelated to backwards compatibility, though who really knows.) Anyway, on to Bullworth Academy!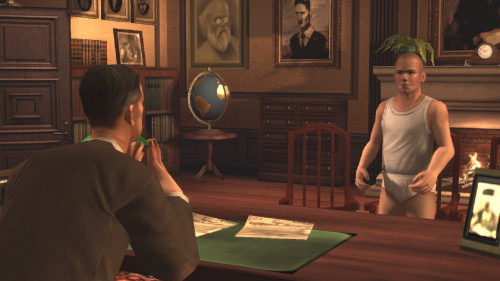 "Our hero, Jimmy Hopkins. (Yeah, don't ask!)"
As a fan of the Grand Theft Auto franchise, Bully is an interesting title. Coming out between GTA: San Andreas and GTA IV, it runs on the same RenderWare based engine as the GTA 3 series and definitely shares a lot of its design aesthetics as well, from the wacky character designs to the loading screen artwork and even the UI. In fact, having been a while since I've played any of the three games in the GTA 3 series, I was taken aback by the familiarity of being back in that engine again. Even keeping in mind that the Scholarship Edition is a remastered version of the original Bully from the end of the previous generation, it was a bit like stepping into a time machine, despite being a totally different game.
Gameplay-wise, it's obviously a different coat of paint on the same old GTA 3 formula. While there's a valiant attempt to change its scope a bit by focusing more on smaller areas and more on-foot interaction, the structure of the storytelling, the missions, etc. are all pure GTA 3. I recall more than one person referring to Bully as "Grand Theft Auto: Schoolyard" or something similar back in the day, and that doesn't feel too off the mark, honestly. Sure, you might be running around on foot, or riding a BMX or a skateboard around the relatively small town of Bullworth instead of stealing sports cars and gunning it through the streets of Vice City, and of course you're giving wedgies instead of mowing down your enemies in a hail of sub-machine gun fire, but it is GTA 3.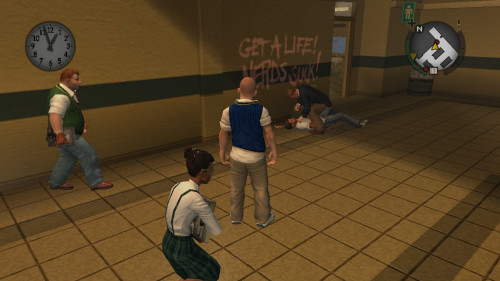 "Welcome to Bullworth Academy! It only gets worse from here…"
Therein lies the charm of Bully, though – by taking the parody heavy humor and oddly jaded worldview of Grand Theft Auto and moving it into the much smaller world of private school drama, the game manages to capture a lot of the real (and much more so, totally fictional) nostalgia of growing up, all with a wink and a nod that feels very, very Rockstar. This really is Bully's main strength and what sets it apart from GTA, and likely why many people rank it above any of the GTA games. Maybe if I had played it back when it was released I'd feel the same way. I did enjoy the game, overall, but I can't say I absolutely loved it or anything. My issues?
Well, first of all, as mentioned, the gameplay and mission design is absolute GTA, but this is pre-GTA IV GTA, meaning many of the mechanical improvements that occurred throughout the development of the franchise are either absent or in a very early form here. Most notably, the inability to quickly retry a failed mission drove me just a little crazy the handful of times I failed a mission. What can I say, I suppose I've been spoiled by more modern, friendly game design…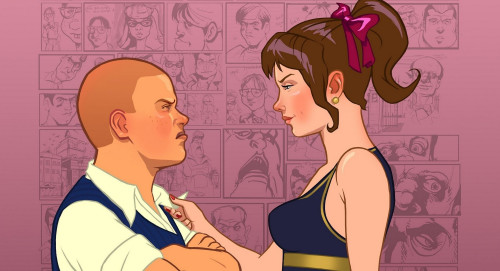 "The load screens also get the GTA 3 treatment."
Then we have the whole "school day" structure. At first I found this to be an interesting and even appealing mechanical twist, but after hours having to keep an eye on the clock to make it to classes, having to take note of the nightly curfew, having to devote half of my day to attempting to pass classes, and of course, having to sleep, it felt more restrictive than anything else, and it did nothing to help the feeling of repetition already present in the GTA mission formula. I guess feeling limited by school hours and a curfew, and the repetitiveness of school life, are quite accurate to the experience of being a high school kid, but it's not exactly fun (again, like being a high school kid.) I also found the mini-games that represent each class largely more interesting of a concept than in reality, sadly.
Another difference from the proper Grand Theft Auto games that I found to be a negative was the soundtrack. I had noticed at some point during my playthrough that the lack of GTA 3's awesome radio stations was noticeably detracting from the experience but when I went online to see if others had similar complaints I discovered that Bully's soundtrack seems to be almost universally lauded. Some of the tracks are kind of neat, sure, and it's definitely unique, but largely I found most of the songs on the original soundtrack to be a little simple, overly repetitive, and often didn't quite fit the tone of the game. I guess I'm alone on this point?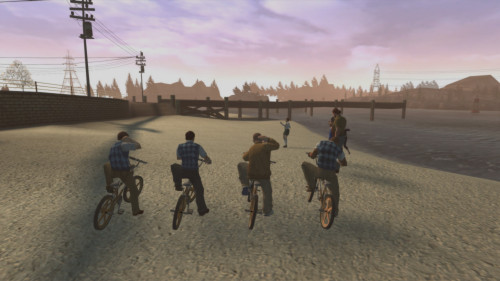 "Well of course there's racing!"
I also had some issues with the story. I appreciate how concise it is, that was one of the selling points to me in fact, but it felt like there might have been some missions and cutscenes left on the cutting room floor. In the fifth and final chapter Jimmy's attempts to win over (and thereby take over) the school have progressed very nicely resulting in Jimmy ending up on top. There's a major tonal shift, as all of the sudden everyone loves him and everything is going according to plan. Suddenly, in the blink of an eye, everyone hates him. Like, really hates him. I almost got whiplash from that alone, but some of it can be explained away easily enough by pinning it on Gary manipulating everyone and general resentment from your peers, but then who the hell are the townies and why are they going through such extreme efforts to screw with Jimmy? Surely the original version of the script had several more missions, or maybe even another entire chapter or so to flesh this transition out. Maybe I'm blowing this particular issue out of proportion as I found only a few people discussing this issue online, but it really stuck out to me regardless.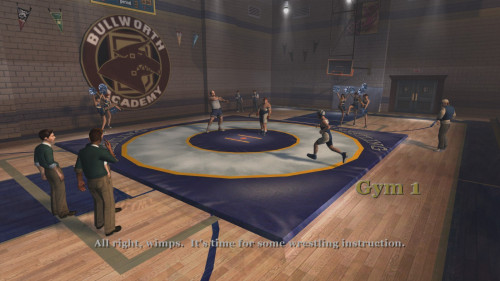 "Gym class!"
Admittedly this is all a bit nitpicky. Overall, I'd say if the idea of a nostalgic journey back to the mid 2000s era of GTA appeals to you (or if you can stomach, at least) and you like the idea of playing a mostly likable teenage troublemaker raising hell in a stuffy private school, it's likely you'll enjoy the experience. I certainly did even if it did fall a bit short of my expectations.
All screenshots stolen from users on the Steam Community, which means they're obviously from the PC version rather than the Xbox 360 version. Close enough!