I'm a little bit behind with my normal game log updates so this is a bit of a catch up session.
Around Halloween last year I decided to grab Double Fine's Costume Quest 2 off of XBLA. As a side note, I don't think they call it Xbox Live Arcade anymore, do they? Whatever man, I'm a die hard! Anyway, I gushed quite a bit about the first one on here, so I felt pretty confident about grabbing the second one.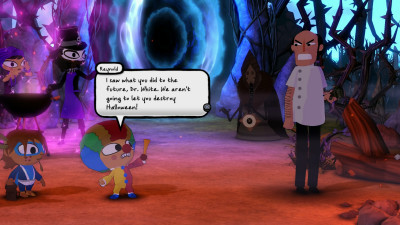 "Dentists should be portrayed as villains far more often."
Gameplay hasn't shifted significantly in the sequel. It's still basically a simplified take on classic JRPGs, with the game divided into wandering an "overworld" exploring, looting a little and talking to the odd NPC, and then moving into turn based, party versus party battles when you encounter enemies. The overworld is mostly the same, though some costumes have special abilities which are used to solve simple puzzles while navigating. Really, they're more about gating you based on whether you have the costume or not than presenting any sort of challenging puzzle to solve though. The combat system itself a bit different, with a greater focus on timed attacks and blocks and the addition of special ability cards, but it all still feels very JRPG-inspired, and while you may prefer one system over the other, the difference isn't all too compelling to me.
The real appeal of Costume Quest is its quaint charm and humor. Unfortunately, while the overall plot might be better realized this time around, the writing struck me as far drier. I didn't get nearly as strong of a genuine sibling vibe from the main characters, for one, and it's hard to put my finger on why, but I also didn't think the game was quite as funny as the first one. Maybe I'm just in a drastically different headspace than I was a few years back, or perhaps the formula has just worn out its welcome. The gameplay also started to wear out its welcome though. In the end, the repetition of exploring the overworld and getting pounded with so many random battles really took a toll on me, and I had to drag myself to the finish line. For a game that's only 8 or 9 hours long, that's definitely not a great thing.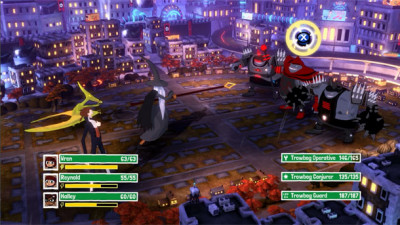 "Dream team: Gandalf, Thomas Jefferson, and a fucking pterodactyl!"
I hear a Costume Quest 3 is in development now but unless they make some major changes to the basic formula I may give that one a pass.
I started a second game from the dusty corners of XBLA at around the same time as I started Costume Quest 2; the sequel to another game that I absolutely loved, Toy Soldiers. I was actually a lot less confident about Toy Soldiers: Cold War because of what seemed like a new focus on special "barrage" attacks, especially the new Rambo inspired playable commando, who was featured constantly in all of the media surrounding the game. I'm happy to report that I was wrong, and Toy Soldiers: Cold War is about as direct a sequel as you could ever want while still allowing for some tweaks to the formula.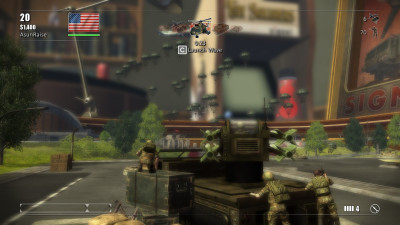 "Sometimes it's just too easy…"
So about the game. Well, I'm just going to steal, almost verbatim, what I said about the original Toy Soldiers here. Toy Soldiers: Cold War takes the classic, simple tower defense gameplay, gives it an awesome Cold War/Vietnam era meets kid's toy box theme, and adds in the ability to control towers and other special units (tanks, helicopters, and jets) by hand to up their effectiveness and/or your score. It's a very simple concept but executed almost perfectly with an awesome presentation and a healthy layer of polish.
As with the first game's World War I theme, the cold war era doesn't get used too often in video games, and the variety and selection units is even cooler and funner to play with in my opinion. The fact that these are toys means how "realistic" it might be for a Huey gunship to duel a MIG-23, for example, is almost entirely irrelevant. That said, like the first game, everything being a "toy" of some sort, and the fact that you're fighting in some kid's bedroom, hardly detracts from the gritty war experience. I quickly forgot that my M1 Abrams tank had an radio control antenna sticking out of it, or that the mass of troops I was brutally gunning down were supposed to be toy soldiers at all.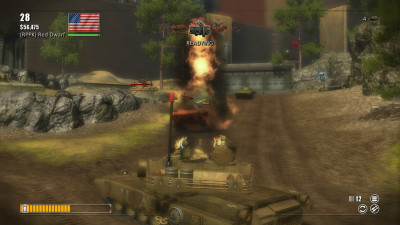 "These (toy) BMP-1s don't stand a chance against my (toy) Abrams."
The aforementioned barrages, which are awarded for certain conditions, actually rarely come into play, though I suppose you could optimize your play to get awarded them more frequently than I did. Besides the commando unit I mentioned, most of these are powerful air strikes, some controllable and some not, and can really help turn the tide during a particularly nasty wave. The special controllable units, tanks, helicopters, and the occasional jet, feel more powerful in Cold War, but now have batteries, effectively meaning you can only use them for a short durations, having to wait for them to recharge between uses. Timing your use of these units can make or break your success in certain waves, and can greatly make up for a lack of certain turrets or upgrades.
I completed the entire campaign on the default difficulty, and also ran though both DLC campaigns. The DLC campaigns are short and sweet and seemed more focused on adding more maps rather than changing up the gameplay too much, despite one of the campaigns letting you play as the USSR, but if you really like the base game, perhaps more maps to play is incentive enough to pick them.
I'm ashamed to say that, like the first game, I still didn't end up trying the multiplayer modes. One of these days. They look awesome, feature glorious split screen, and you can even play through the entire campaign co-op.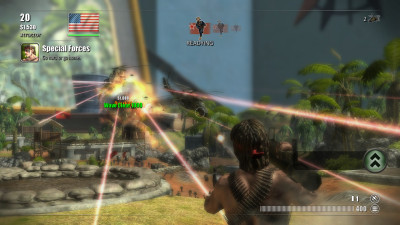 "The Commando doing what he does best, which is apparently effortlessly shooting down Mi24 Hinds!"
Signal Studios keeps knocking these games out of the park for me, and I'm already planning on picking up the latest game in the series, Toy Soldiers: War Chest. War Chest looks to really push the fun toys angle of the series over the edge, and even includes licensed toys like He-Man and G.I. Joe this time around. Seriously? Dude.
Last, and least, I've been playing Bungie's Destiny 2 here and there. I know it's been out for months already, but I'm going to hold off on talking about it until I play through the campaign a second time and can put together some more coherent conclusions on it, but I've definitely enjoyed my time with it so far. Stay tuned for that!
As usual, the screenshots here are mostly stolen from other places. Despite scouring Steam Community for what felt like hours, I'm not too satisfied with the Cold War screenshots. Sure, they're cool, but they don't represent that game's core tower defense gameplay too well. What can I say? The flashier action stuff just makes for better pictures.