While still not gaming particularly heavily I've certainly had my nose in all kinds of different things lately.
First of all, I've been slowly blasting my way through Fallout 3 on PC. I knew I'd love this game from when it was first revealed, being a fan of both the original Fallout games and the Elder Scrolls series, and I was right. I was toying with the idea of doing some kind of a "Garn" like Let's Play though probably scaled waaaayyyy back to quick journal entries or something but as my main inspiration for starting up Fallout 3 was to play something similar to Oblivion in between writing my blog updates I decided to forgo doing anything like that and just play the game at my own damn pace.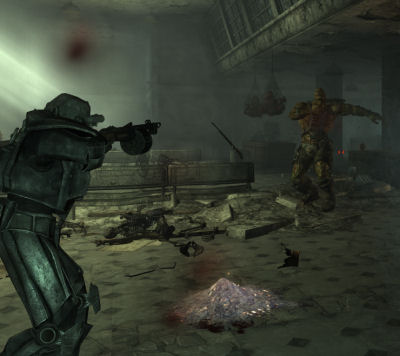 "Charon doing what he does best."
My character started life as a chaotic good (or some approximation thereof) energy weapons loving, grenade chucking hacker and medic and so far I'm not regretting the choice, despite hating the hacking mini-game and having an ungodly huge stash of Small Guns ammunition stockpiled thanks to some major early game ammo shortage scares. I'm having a ton of fun with it and will probably play it again on 360 at some point in the future. I also can't wait to dive into New Vegas though I'll almost definitely play that one on console to fix up my achievement sickness. 😉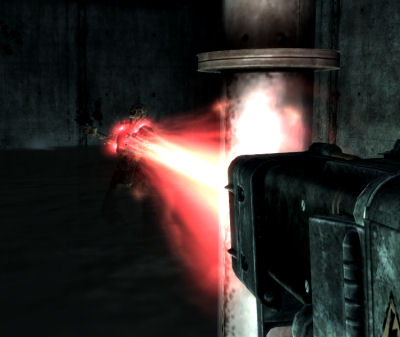 "All the ghouls love my Protectron's Gaze!"
Hmm, what else? Inspired to do something more creative but not really having the time for an all out coding project I started playing around with the original Neverwinter Nights engine on my old laptop and eventually started to run back through the original campaign. It was hard for me to slog through this thing when it originally came out and I started hitting road bumps real early this time as well. I still think the old module creation toolset is pretty awesome but I more or less lost all inspiration to create something with it once I subjected myself to the campaign proper again.
I'm not sure what inspired it, other than maybe not having that much fun with NWN and having a copy of it lying around, but I then moved on to the original Dungeon Siege. So far it is part intriguing and part horrible. I like being able to lead my party around and have them fight automatically which feels kind of novel for this genre (somehow?) but not having any special abilities or much else to do other than navigating and popping potions me makes it a little boring after a while. Short play sessions have been mandatory so far. I'll probably finish it one day since I had never played it before and I have definitely been getting some enjoyment out of it.
I was still feeling the hack and slash itch and with all of the Diablo 3 buzz going on in the last few months I figured I might purchase and run through the XBLA version of Torchlight. Theorycrafting with some build ideas I decided to simply try them out in Torchlight on PC since I already own it. Hours later and, yes, I still like the game quite a bit. I'll probably still break down and buy the XBLA version of it soon. I wonder if Torchlight 2 will end up making it to console? The XBLA port of the first game was apparently ported quite masterfully.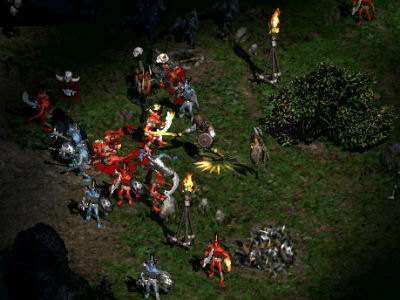 "Like an old glove…"
After all of that I finally decided that, yeah, I really need to buy Diablo 3. I really wanted the collector's edition but missed the original window and couldn't find it anywhere on launch day so, feeling a bit defeated, I still haven't go around to buying it. Instead I decided first to play through Diablo 2 once more to refresh myself on the story and whatnot. I honestly wanted to start with the first Diablo but I figured I'd save that for a review/retrospective sometime later.
Now, I've played through normal difficulty probably a dozen times with most classes and while never a crazy Diablo 2 addict I've certainly gone into higher difficulties and even played hardcore mode some. This time I picked a Paladin which I had played before but never gotten out of normal with. So far, despite having trouble adjusting to the brutal way 800×600 resolution looks on my flat panel, I'm enjoying the hell out of it. The creepy, dark tone and sense of isolation and despair the game sets is just perfect and, as influential as Diablo 2 was, still feels quite unique all these years later. Awesome. Now I'm absolutely salivating for Diablo 3.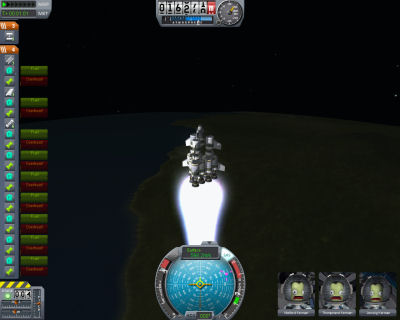 "The look on their faces says it all."
Finally, after hearing the Rebel FM crew (and others) talk about it on podcasts I grabbed Kerbal Space Program. Hours of fun, this. There's nothing quite like building your own rocket and then laughing hysterically as you struggle to get the thing off of the ground without some marvelously epic disaster. The real challenge starts after you finally manage to build a decent rocket and then find yourself having to actually learn a thing or two about the real life science of space travel as you attempt to actually orbit the planet, change orbits and orbit the moon, and then finally make a successful moon landing. If you're real ambitious you can even try getting your little Kerbalnauts back home in one piece.
This is definitely a game I'll be dusting off every now and then to check out new version enhancements and give a spin. I'm loving where indie game development is right now…