Since I've been making a concerted effort to go through my Xbox 360 backlog I've been sneaking an Xbox Live Arcade title between every game or two. Having just completed Orcs Must Die! I figured I'd also go ahead and mention a couple others I put some time into recently.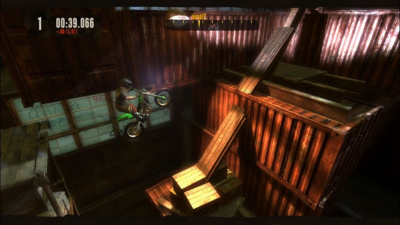 "Not pictured: imminent painful death."
First, I ended up buying and giving Trials HD a whirl. For those unfamiliar with the series (who are you?!) the game is kind of like a modern day Excitebike, only using an amped up physics engine and courses designed by total fucking sadists. You play an anonymous motocross rider negotiating various obstacles (that aren't necessarily based in reality) as quickly and smoothly as possible. It's not really a "race" in the traditional sense but you're always racing against the clock to beat pre-defined goals. There's also a nice feature that lets you easily compare your scores against your XBL friends'. I knew this game had a reputation for being brutally difficult but that it was also built from the ground up on that premise, making restarts and retries convenient and forgiving. It definitely delivers there, instilling a "just one more try!" attitude on even the least addictive personalities. Personally, while I feel like I could play this game forever, attempting to gold medal every race, unlock all of the achievements, etc. I honestly have too many games on my backlog to justify subjecting myself to the kind of frustration that started rearing its head once I got into the "hard" and "extreme" rated levels for too long. Yeah, I shamefully put this one down before completing it. If I had bought it when it came out I might have finished it but I just can't force myself through it right now.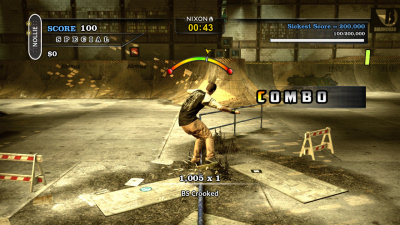 "Promance? Nope."
Speaking of which, I also ended up picking up Tony Hawk's Pro Skater HD during a XBLA sale at some point. Thinking of the first three Tony Hawk games causes an almost instant nostalgic flashback to my college years, with just about every one of my punk rock, wanna-be skater friends that owned a Playstation or Dreamcast at the time totally addicted to the series. I owned the barely adequate Nintendo 64 port of the first game myself and was totally addicted to it despite its shortcomings. How does it feel to go back? Eh, kind of shitty actually. The game looks pretty good and, at first play, controls more or less like what I remembered the series playing like. Unfortunately those positive impressions didn't last long as I began to notice that the controls didn't quite make the translation to the new HD engine which itself "feels" totally different and is chalk full of some now rather infamous physics bugs. Most offensively, the classic THPS soundtrack has been totally gutted. Licensing issues, most likely, but it still changes the experience drastically. While I wouldn't necessarily tell any fans of the original to totally steer clear of this remake I'd definitely suggest giving the demo a shot first. Personally, after clearing about half of the levels I've decided to put it down.
Finally, an XBLA game I couldn't even start to put down early was Orcs Must Die! Holy shit, I love this game! I've talked very fondly about both Toy Soldiers and Defense Grid on this blog in the past so it probably comes as no surprise that I'm raving about yet another highly polished tower defense game. Orcs Must Die! probably more closely resembles Toy Soldiers, as it gives the player the ability to participate in the action themselves rather than just hover above the battlefield like some kind of micromanagement obsessed deity. Actually, this game goes even further with the third person action component being a much more fleshed out and indeed, important part of the game. Some of my strategies actually centered on my reinforcing one or two paths with traps while guarding the other with my character's selection of weapons and spells.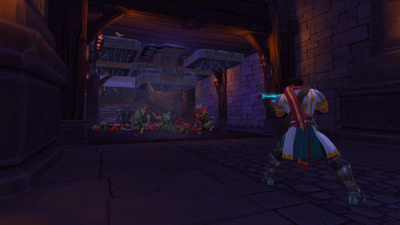 "Step into my web, little orcs…"
Let me back up for a second and explain the premise a little better – you play as a sarcastic apprentice "war mage" who has been tasked with guarding the magical portals from one world, apparently occupied by all manner of nasty orcs and other stereotypical fantasy monsters, to your own. These portals are all inside of dungeon-like fortresses, some of them fairly elaborate, though unlike a lot of tower defense games their layouts never really get *too* complicated. As per usual, your enemies come in various "waves" of different combinations of enemies with breaks in between in which you can use the money you've earned by killing enemies from previous waves to shore up your defenses. In this game your "towers" actually consist of various types of dungeon traps – spiked floor panels and wall dart launchers to kill your enemies, swinging maces and crushing ceiling tiles to maim them, and sliding walls and springing floor panels to send them hilariously flailing off of ledges and into lava pools. There's even placeable archer and paladin NPCs to help guard your paths. Unlike some tower defenses games, you can also place them just about anywhere they'll fit. The traps and other defenses are rolled out to you steadily as you progress, which means back tracking in the campaign can be helpful to improve your score, and there's even an optional (and ultimately very useful) skill tree system that gets introduced a little further into the campaign.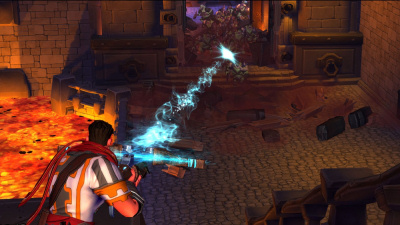 "No good shots showing the UI, unfortunately."
I ended up working my way through the entire War Mage campaign (normal difficulty) with 4 or 5 skull ratings on every map. I highly considered going back and chasing 5 skull ratings on every map, or playing through the campaign on a higher difficulty, but again, too many games too little time. It's a shame that the sequel never got released on Xbox 360 but I MOST DEFINITELY plan to pick up Orcs Must Die! 2 on Steam. Robot is also apparently working on Orcs Must Die! Unchained now which turns the whole thing into some kind of weird, Team Fortress 2 inspired 5 vs 5 competitive game. Intriguing!
Per usual, Xbox 360 screenshots stolen from wherever possible.