Warning: potential main quest spoilers ahead!
From Garn's recollections:
What Lies Beneath
I returned to Cloud Ruler Temple to deliver my report but Jauffre was nowhere to be found. My at least partial success with petitioning Cyrodiil's cities for reinforcements was already evident though, as small groups of guardsmen were already starting to arrive in Bruma. I turned my attention to Martin, interrupting him in his makeshift study in the great hall. Martin excitedly revealed that he had deciphered the next component required for the ritual, blood of the gods. Blood of the gods? This seemed even more farfetched than Martin's earlier unlikely request for Daedric artifacts since the Aedra rarely show themselves in any sort of tangible form and have few artifacts directly associated with them. I was bewildered, but Martin and Jauffre had already come up with a plan.
Talos was the key, of course. Having ascended from a mortal, Talos left behind relics and yes, maybe even blood. Martin directed me to Jauffre for the details. I found Jauffre sometime later, riding up into the stronghold from personally reviewing the state of Bruma's defenses. He pulled me into the then deserted armory to explain the plan.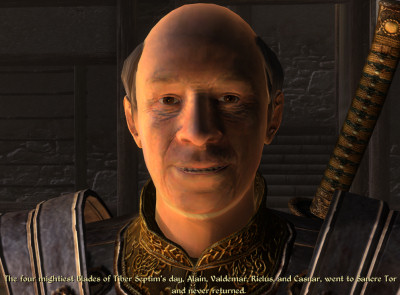 "Honestly not sounding like an ideal vacation spot, Jauffre."
There was an ancient city fortress called Sancre Tor of which only a ruin remains. Far below the ruin in the catacombs beneath lies the tome of some of the first emperors of Cyrodiil and a shrine to Tiber Septim erected by the first of the Blades. On the shrine lay one of their most precious holy relics, the Armor of Tiber Septim, said to be splashed with Tiber Septim's blood. He assured me that while it may sound unlikely that such a priceless relic had not been looted the tomb almost certainly remained undisturbed. For a great many years the Blades made regular pilgrimages to the tomb, until something else arrived.
Jauffre didn't know what, or how, but an evil presence took possession of the ruin of Sancre Tor after which none who entered ever returned. The Grandmaster of the Blades at the time had the catacombs sealed and Sancre Tor not only fell into further disrepair but was all but forgotten by anyone outside of the order. Jauffre handed me the key and cautioned me about underestimating the threat this presence posed. Many highly regarded Blades had fallen attempting to cleanse the shrine before the decision was made to close off the site.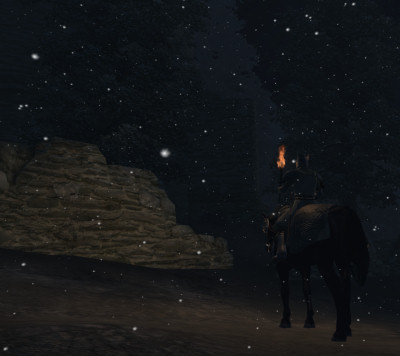 "Approaching Sancre Tor at night."
The ruin rested on a quiet hillside at the base of the Jerall mountains, west of Bruma. I paused to enjoy the serenity that this much deserved moment of peace brought out in me then drew my sword and slid Jauffre's key into the humongous, reinforced doors that protected Sancre Tor.
A thick, choking dust hung in the air of the long abandoned corridors, and the absolute quiet was disturbingly eerie. Once I got deeper into the catacombs I began to encounter ghosts, wraiths, and all manner of undead, but nothing I hadn't encountered before, and not in staggering quantity. Soon, though, I discovered my first challenge. I entered a room with a large, open chamber in it to find myself being charged by a skeletal warrior. Reanimated dead of many varieties are common in such ancient, haunted places, but as we traded strikes I noticed something peculiar about this one: he used the Akaviri sword of the Blades, and fought with more precision than most undead could muster.
"Two mighty Blades square off, though I at least have the advantage of being alive."
Once I had dispatched my foe the spirit of man dressed in full Blades garb rose from the its shattered remains, turned, thanked me for freeing it, and seemed to turn its attention towards going somewhere else. When I was briefly able to gain the spirit's attention to try to learn more he told me that he and three other Blades were sent here to investigate what had defiled the catacombs. They learned that it was the Underking, there to seek vengeance on Tiber Septim for some sort of perceived betrayal. After defeating them the Underking had cursed the spirits of the four dead blades to remain in Sancre Tor forever, guarding it from any living being who dared enter. The Underking himself had long since fled, but the spirits of these Blades were stuck there. I could hold the spirit's attention no longer and he continued on his route. Walking with him, he arrived at a massive chamber with a series of tunnels that jetted out from its center like the spokes of a wagon wheel.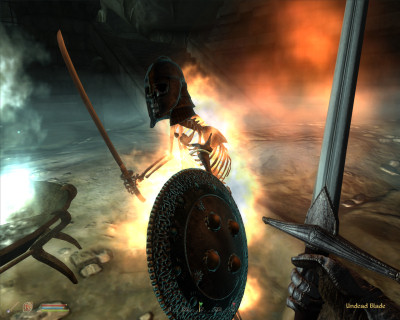 "Burning Blade? Sorry."
As I explored more I discovered yet another one of these undead Blades, who also returned to the center chamber. Following him more closely, I noted that he joined the other in a room with a more ornate entrance than the others. As I entered I could immediately tell that I was in the oldest part of the catacombs and that these tombs were of some significance. The two spirits knelt in front of a massive, decorative door, a magical barrier blocking passage through it. I immediately turned around to seek out the other two spirits, hoping the magic that blocked the doorway was somehow related to the magic the bound these spirits in place.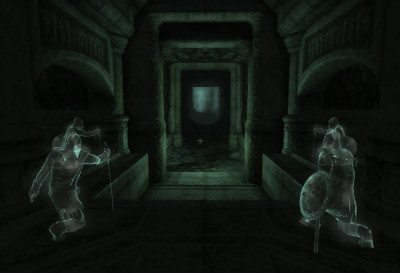 "Lifting the curse."
In time, after exploring more of the maze-like catacombs, I found and defeated the remaining two undead Blades. As predicted, the spirits took their place in formation around the doorway, raised their swords one last time, and vanished. With them, the barrier also disapparated. I entered the shrine, which hadn't been seen by mortal eyes in an age, and carefully picked up the Armor of Tiber Septim.
Jauffre couldn't believe his eyes when I presented him with the holy relic and soon a large gathering of Blades formed around to stare in awe at it. Some even began to pray, hoping for a blessing from Talos, perhaps. Martin, on the other hand, was all business. He had discovered another of the components, and soon I was on my way to Miscarcand.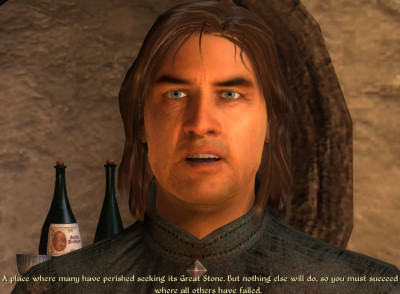 "You two should really start a travel agency. Seriously guys."
Miscarcand, Martin told me, was an ancient Ayleid city, one of their capitals long, long ago, and one of the few Ayleid ruins rumored to still possess a Great Welkynd Stone. I was familiar with Welkynd Stones, as were all adventurers and treasure hunters, as the valuable, glowing stones are rare but notable finds in most Ayleid ruins, and both collectors of Ayleid artifacts and arcane magic users had an interest in acquiring them. Still, this was a Great Welkynd stone – larger, more powerful, and incredibly rare. The only problem with Miscarcand, and indeed, why the stone was still likely there, was that it was known to be fiercely guarded by the undead lich form of its last ruler. I was not excited, but with the mounting tension surrounding the plot to attack Bruma and the Martin's efforts to stop the Mythic Dawn, it had to be done.
Luckily, I knew precisely where the ruin was as I had plotted its position when mapping out the province so long ago so it wasn't long before I set off on the long journey down south. Upon reaching the site and exploring the scattered above ground ruins I was surprised to find my foes primarily consisting not of undead, but of goblins! A tribe of Bitterfish goblins had taken up residence in the ruin and most definitely objected to my presence there. They were of little consequence, as their primitive arrows bounced off of my armor and after demonstrating my power by hurling a massive fire blast near a small group of them they mostly left me alone.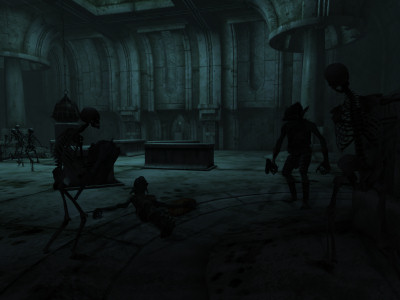 "Turf war in Miscarcand."
Inside the ruin I found more of the goblin tribe attempting to make it their home, but deeper down I also found the expected undead minions driving them back out. Skeletons and zombies in high numbers made me suspect the rumors of a lich living in this place might indeed be true but I hoped I could avoid finding out all the same. More importantly for now this power struggle within Miscarcand occupied both sides, allowing me to explore much of the ruin without conflict.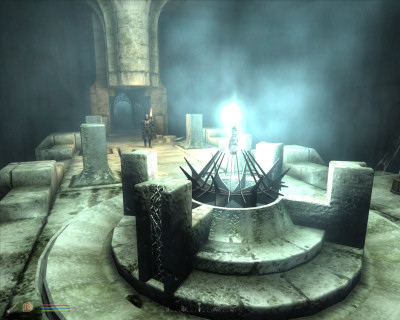 "Great…"
After searching for quite some time I eventually made my way to the deepest level of the old city, finding it suspiciously quiet. An intense icy blue glow illuminated the entire center of the largest chamber and after carefully making my way over to it I confirmed a Great Welkynd stone was indeed the source of the light. Lifting the stone from its crumbling metal holder I could feel a pressure plate of some sort raise up from beneath it followed by the sound of a chain running and a distant stone door sliding open. It was too dark by then to try to figure out what I had triggered but at least it didn't seem to be a trap.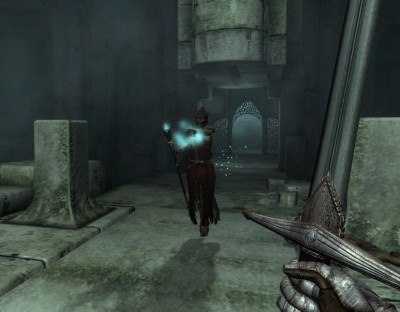 "Moving in for the kill."
As quickly as I could stash the stone it was on me – the powerful lich flew towards me, hurling all manner of deadly offensive spell at my direction in quick succession. Despite its strong offense I was able to dodge or deflect most the lich's attacks and when I finally managed to land my own, be they spells or strikes from my blade, they seemed to inflict quite a lot of harm to the cursed abomination. Diving behind a stone pillar, only poking my head out to hurl the occasional fireball at it, I waited for the lich to try to face me up close. As it approached I sprang from my cover and with all of my might I cleaved my blessed Crusader's sword deep into its shoulder. It threw its head back, dropping its staff in agony. In two swiftly chained motions I kicked the lich off of my sword and made a second massive downward swing into the exact same spot, slicing yet deeper still. Its unnatural glowing eyes faded into darkness of the now pitch black chamber.
I left the ruin, Martin's new Great Welkynd stone in a sack tied to my saddle, and the fate of Bruma on my mind…