In my last update I mentioned bouncing off of Call of Duty's new Blackout battle royale mode and hoping to find a new multiplayer game I could play with friends. Shortly after posting that update, Apex Legends came out of nowhere.
Apex Legends is a free-to-play battle royale game by Respawn Entertainment, the guys behind the much loved Titanfall series. Far outside the norms of video game tradition, they pulled an Apple, announcing the game and announcing that it was immediately available. As much as I enjoy PlayerUnknown's Battlegrounds and the entire concept of open world "battle royale" games in general, I've grown quite skeptical of any new titles claiming to be ready to snatch the crown from the likes of Fortnite Battle Royale. Still, I was curious so I tuned in to a few random streams and my interest was immediately peaked.
Apex Legends takes the fast, action packed, and highly polished feel of Blackout and combines it with the unique "hero" with special powers concept of games like Overwatch and Rainbow Six Siege and pretty much the entire MOBA genre. On top of that, Respawn has come up with all kinds of clever, new quality of life improvements which I've never seen in a battle royale game before. Their UX people were shooting for the stars here. Sure enough, once I downloaded it and jumped in myself, I found the game to be just as fun as it looked.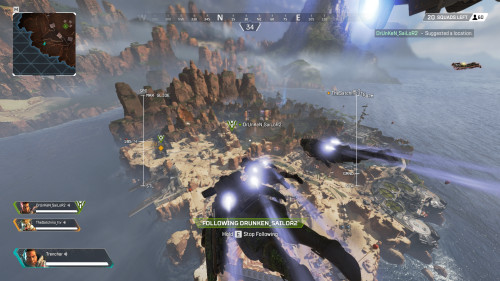 "Dropping in with the boys."
Thankfully I feel Apex Legends successfully sticks the landing on the whole enjoyable feedback loop that I accused Blackout of missing in the same post. It's also got plenty of customization options and lots of variety in characters and weapons, and a good map, with promises of quarterly "seasonal" content pushes. Finally, for a free-to-play, it feels quite unintrusive when it comes to trying to convince you to spend money on characters and cosmetics.
Depending on how much I continue to play it I may make a future post with details about Respawn's cool innovations, but in short, I've really enjoyed Apex Legends and (seemingly) so has my crew. While I doubt I'll spend much more money on it, I've did at least lay down $30 for the "Founders Pack" in appreciation for the awesome game. I've already started decreasing my playtime with it, unfortunately, but that has much more to do with my difficulties syncing my playtimes up with everyone else I play with, and games like this pretty much demand to be played in a group. We'll see If I can get that sorted, or my next post is all about how I dropped off of this too… 🙂