A few months ago while looking for a new adventure-ish game to couch co-op through we noticed King's Quest episode 1 for free on Xbox Live. Being a bit of a PC adventure game fanatic I'm, of course, quite familiar with the King's Quest series. My girlfriend had probably never even heard of it, but I think the aesthetics and production value of the new game were intriguing enough on their own to get her attention. We grabbed the Xbox 360 version and made it through most of the episode, enjoying it immensely and vowing to return to finish it off. Many months later, we finally dedicated ourselves to playing through the entire run.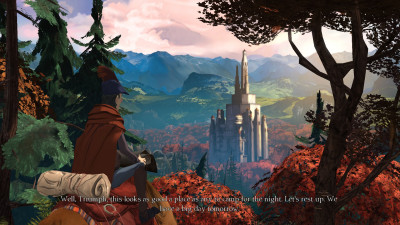 "The Kingdom of Daventry!"
The second time around we grabbed the Xbox One version, which wasn't notably different, and bought the season pass. Re-playing episode one and then, eventually, making our way through all of the episodes, our opinions never really waned despite the fact that each episode is somewhat of a departure from the last. That is, they each have slightly different tones and even different gameplay focuses. The first episode felt like some of the more traditional (pre-Walking Dead) Telltale games, and exuded a whimsical, storybook tone while episode 2 was much darker with a lot more traditional graphical adventure game style puzzles. Episode 3 was a mixed bag but overall much more story focused, episode 4 had tons of back to back logic puzzles, not unlike something like Myst, and episode 5 seemed to mix up all of these flavors into one final, satisfying, and somewhat emotional finale. This is an interesting strategy to keep each episode feeling fresh, but looking at comments online I found that it often seemed to have a negative effect – everyone seemed to have his or her own favorite episode and was disappointed that the others weren't more of the same.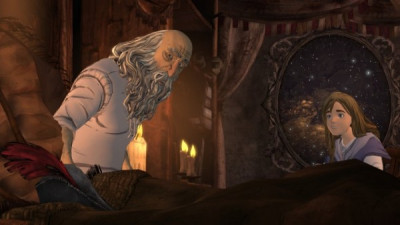 "The lure of adventure still calls out to old geezers like King Graham and I."
Speaking of personal preference, oh man is this game beautiful, but it's art is highly stylized and I'm sure a small percentage of players found it immediately objectionable. Hopefully a little less divisive is the great voice acting across the board, including notable appearances from Christopher Lloyd and Wallace Shawn. Not only does Wallace Shawn shamelessly re-visit his role as Vizzini from The Princess Bride but oddly there are even numerous nods and references to his scenes in the film. The music, while fairly unobtrusive, is also well done, with some notable callbacks to the themes of the original games. The whole package feels highly polished overall and you can really tell The Odd Gentlemen spent a lot of time and care researching and designing this game from the ground up.
The story arc takes you through King Graham's life as an adventurer, from before he was King all the way until the end of his reign, and while each episode has its own plot, the story that connects the episodes feels much better written than the loose, probably largely ad-hoc, through-lines that tied the original King's Quest games together. It mostly attempts to expand upon and tie together some of the gaps in the fiction of the original games as well as re-imagine some of them entirely. For instance, the plot of the first episode barrows many elements from the original King's Quest game, yet tells a bit of a different story, and the plot of the third episode is almost a re-telling of King's Quest II: Romancing the Throne without invalidating too much of it. Episode 4 seems to draw heavily from King's Quest III: To Heir Is Human. Beyond that, there's all kinds of other nods and references to the original series of games which nostalgic fans will probably get a major kick out of, and there's even some direct flashbacks to the old AGI and SCI engines.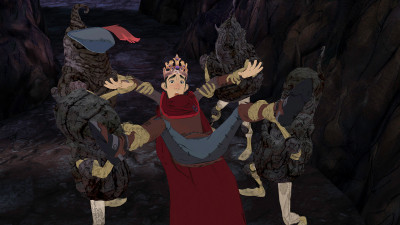 "King's Quest almost looks animated, a la Dragon's Lair, in stills."
While I'm sure there are some, maybe even many, King's Quest fans who didn't enjoy this new series, I'm personally delighted by this reboot, or re-imagining as they prefer to call it, and love seeing Sierra's name once again tied to a whimsical, clever, and beautiful adventure game. It seems like relatively few people I know have played through these episodes, even some who would seem to be in its target audience, but it's such a complete package on its own that if poor sales don't lead directly to a sequel I can't say I'd be too disappointed. If you are one of those people, however, I'd encourage you to at least check out the first (free) episode and see if you think you might like more.
Speaking of co-op experience, I finally took the plunge and grabbed the Xbox One version of 7 Days to Die. If you're not familiar with the game, it started life as a Minecraft clone aimed at focusing on the survival element of the game, dropping you in a bleak zombie apocalypse. The more development time the game got more it came into its own, both in terms of presentation, with graphics now much more realistic, and gameplay, a little more hardcore, bringing in some of the statistics heavy elements some survival games are known for.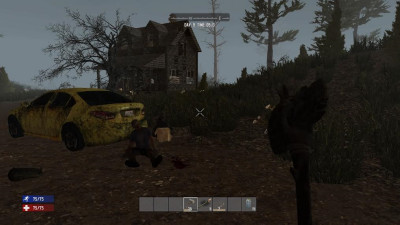 "It's an ugly, desolate wasteland, but it's home."
I had actually purchased the game on Steam ages ago but it didn't run on my old gaming machine worth a damn so I barely touched it. When the console version of the game launched relatively recently I was amused by how harsh the feedback was. People were turned off by the graphics, not realizing the game's roots. Instead of looking like a realistic take on Minecraft's big, cartoony voxels, people saw an ugly attempt at a more modern game. Still, between people attacking the game's relatively unsophisticated visuals, there were smatterings of people who were absolutely loving the game. The console port, in particular, has the increasingly rare featuring of supporting same screen couch co-op, which seemed to be one of the more endearing features to people. It definitely is to us!
So how is it? Imagine Minecraft (Okay, sorry to keep harping on this, but it was my original frame of reference for this game) if it had a that gritty, more realistic art style I mentioned, and… oh yeah, guns. Imagine if instead of mining and farming, that game was more focused on scavenging and crafting. That's it, in a nutshell. Sounds fun? Yes, it's fun!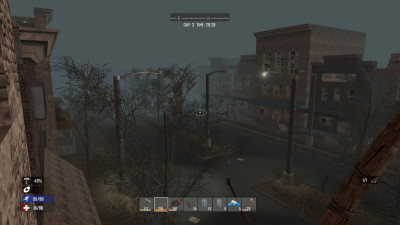 Skyrim with the release of the new remastered "Special Edition." I grabbed the Xbox One version of it with the intention of letting my girlfriend play through it again, yet she ended up getting more satisfaction out of peer pressuring me to play it and watching me stumble around like an idiot while she amuses herself with the supreme power foreknowledge. Well…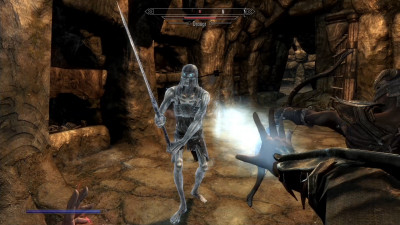 "All Draugr really need is hugs. Hugs and lightening bolts."
So, seriously, what is there to say about Skyrim at this point that everyone hasn't already heard? I'm playing a grizzled orc warrior and having an utter blast, which, frankly, is no surprise to me and shouldn't be much of one to anyone who has ever glanced at this blog before, as I'm a huge Elder Scrolls fan. Sure, every Elder Scrolls title is a little divisive, even among fans, but ultimately Skyrim, for all of its pluses and negatives, is an Elder Scroll-ass game and a great one at that. The only downside is that this unfortunately means it'll probably be quite a while before I move onto my next console game…
Xbox 360 and Xbox One screenshots stolen by the Khajiit and traded for sweet rolls…